London, Paris and Boston, 12 December 2017: Ariana Pharma and ValiRx Plc (AIM: VAL), the clinical stage biotechnology company, today provided a positive update on the clinical progress of VAL401, the anti-cancer compound developed by ValiSeek.
Using Ariana's proprietary KEM® (Knowledge Extraction and Management) advanced Artificial Intelligence technology, the data analysis demonstrates that the VAL401 treatment has a statistically significant improvement in Overall Survival for patients with non-small cell lung cancer compared to those receiving no treatment.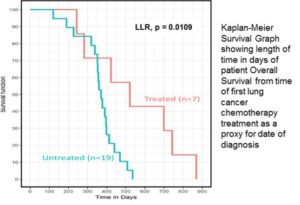 Further analysis of other endpoints, including Quality of Life, is underway at Ariana along with systematic scrutiny of underlying factors. These dictate the response or non-response of patients to treatment, using Ariana's KEM® platform. The use of this technology aims to increase the chances of success in subsequent trials through informed patient selection.
Dr Suzy Dilly, CEO of ValiSeek, commented: "I am delighted to confirm that our patients benefitted in overall survival, with the other measures of disease impact still to be analysed and presented. The team at ValiSeek, Ariana and ValiRx have been instrumental in ensuring this data is presented and interpreted fully and I look forward to updating the market with the next report instalment".
Links: ValiRx Press Release | VAL401 1-pager