Further positive results for ValiSeek VAL401 in Phase II trial for non-small cell lung cancer (NSCLC) patients.
VAL401 treatment has a measureable improvement on patient Quality of Life, in addition to a significant impact on survival.
London, Paris and Boston, 16 January 2018: Ariana Pharma and ValiRx Plc (AIM: VAL), the clinical stage biotechnology company, today provided an update on the clinical progress and results of VAL401, the anti-cancer compound developed by ValiSeek.
Following on from the announcement on 12 December 2017 regarding the overall survival results from the completed Phase II Clinical Trial of VAL401 in Tbilisi, Georgia, in the treatment of late stage non-small cell lung cancer, further positive data on the results from this trial have been released.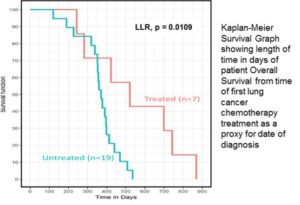 Using Ariana's proprietary KEM® (Knowledge Extraction and Management) advanced Artificial Intelligence technology, the analysis of the most recent data shows that the VAL401 treatment has a measurable improvement on patient Quality of Life, in addition to a positive impact on the disease.
Ariana's KEM® systematic analysis of the Biochemical Response and Quality of Life improvements identified relations providing further insight into VAL401:
White Blood Cell Count (WBC) in 3 patients increased during the trial, indicative of increased immune system activity.
Multiple patients reported an improvement in pain, which on comparison to pharmacokinetic parameters was linked to high exposure to VAL401.
Improvement in fatigue was associated with lower exposure.
Patients regardless of responder status reported improvements in Quality of Life measures suggesting palliative effects of VAL401 treatment. Responders additionally observed anti-cancer (survival) benefit.
Read the full release here and don't hesitate to contact us to learn more about how the KEM technology and Ariana's extensive expertise in precision medicine can help you design and interpret your clinical trial, accelerating development timelines and improving chances of success.
Links: ValiRx Press Release | VAL401 1-pager