Two posters highlighting the use of Ariana's Real World Evidence (RWE) platform for large scale data mining of healthcare records are to be presented at API 2017 (Asociacion Panamericana de Infectologia) – XVIII Congresso Panamericano de Infectologia, Panama, 16-20 May 2017.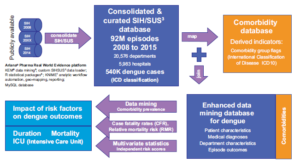 The studies focus on retrospective analyses of risk factors for dengue mortality in hospitalized patient databases in Brazil and Mexico, and were sponsored by Sanofi Pasteur with service provision of database consolidation, data mining and statistical analysis by Ariana.
Ariana has access to over 110 million anonymized patient episodes in its RWE platform and provides advanced data mining services to evaluate the impact of diseases, epidemics, or external events on hospitalization outcomes over a wide range of spatiotemporal granularities.
API 2017 posters
"P8: Comorbidities increase In-Hospital Mortality in Dengue Patients in Mexico", TOH M.L.[1], BAURIN N.[1], MORLEY D.[2], RECAMIER V.[2], GUERGOVA-KURAS M.[2], PUENTES-ROSAS E[3], OCHIAI L.[4], COUDEVILLE L.[1], MASCAREÑAS C.[3]
[1]Sanofi Pasteur, France; [2]Ariana Pharma, France; [3]Sanofi Pasteur, Mexico; [4]Sanofi Pasteur, Singapore
"P9: Comorbidities increase In-Hospital Mortality in Dengue Patients in Brazil", TOH M.L.[1], BAURIN N.[1], MORLEY D.[2], RECAMIER V.[2], GUERGOVA-KURAS M.[2], PUENTES-ROSAS E[3], OCHIAI L.[4], COUDEVILLE L.[1], MASCAREÑAS C.[3]
[1]Sanofi Pasteur, France; [2]Ariana Pharma, France; [3]Sanofi Pasteur, Mexico; [4]Sanofi Pasteur, Singapore
Links: API 2017 conference website | Download P8 PDF | Download P9 PDF