Precision medicine approach using Ariana's AI KEM® shows that a small data rich open label clinical study of 32 well-characterized patients may be sufficient to identify strong biomarker hypothesis identifying patients with the highest chance of benefiting from the drug.
BARCELONA, October 26th, 2018. Dr Mohammad Afshar presented 3 years longitudinal data of clinical efficacy of ANAVEX®2-73 (Anavex Life Sciences, Nasdaq: AVXL), and confirmed role of patient selection genomic biomarkers, at the 2018 Clinical Trials on Alzheimer's Disease Meeting (CTAD).
Using Ariana's proprietary KEM® (Knowledge Extraction and Management) advanced Artificial Intelligence technology, the analysis of the longitudinal 3-year (148-week) data showed that patient cohort with the higher concentration of ANAVEX®2-73 maintains Activities of Daily Living Score (ADCS-ADL) and display a reduced cognitive decline (MMSE) when compared to the lower concentration cohort.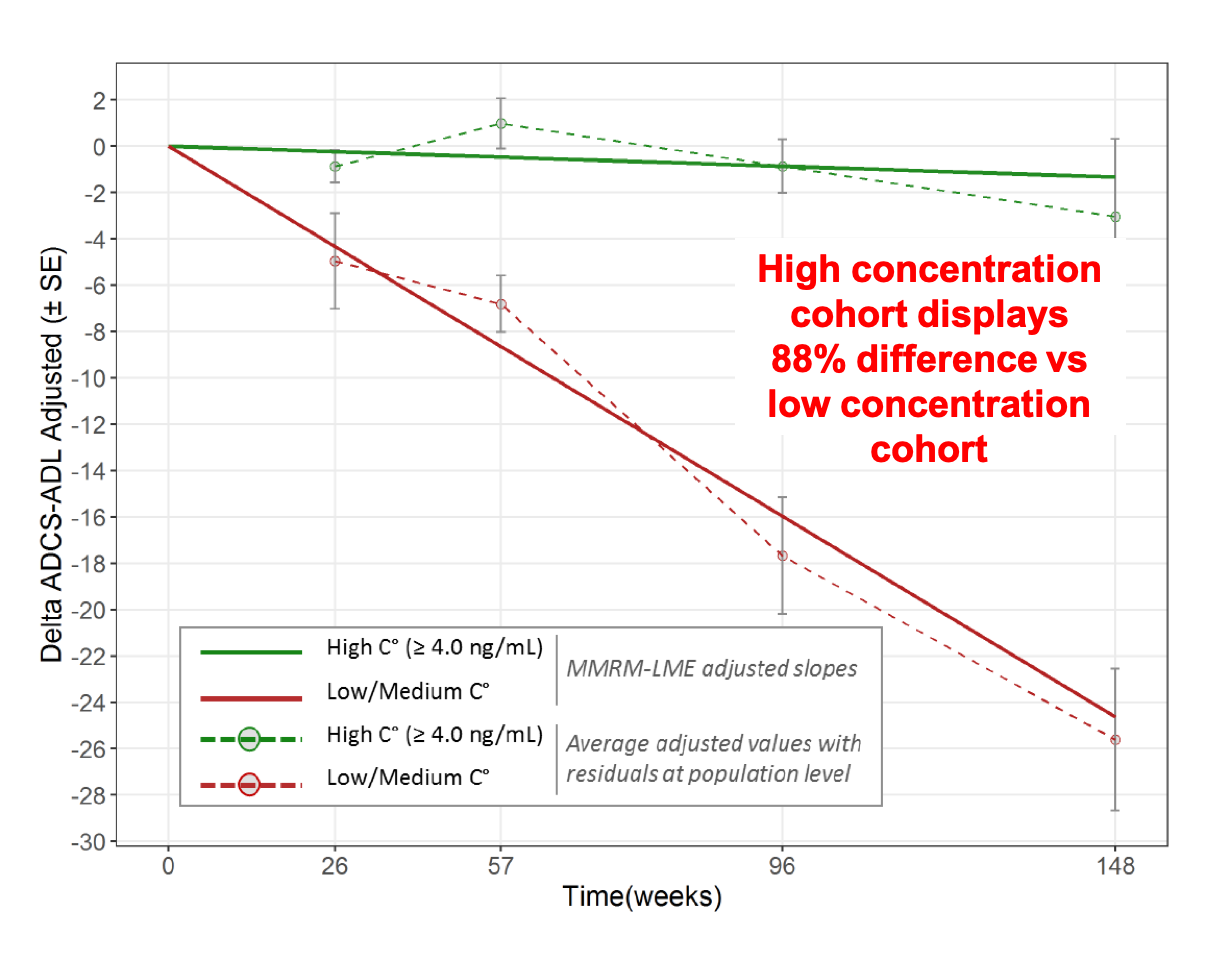 MMRM adjusted analysis demonstrates that High concentration cohort displays a staggering 88% ADCS-ADL response difference vs low concentration cohort
In contrast to the vast majority of communications at CTAD 2018, the presentation focused on a novel drug target (SIGMAR1), the use of genomic biomarkers, rather than surrogates of response, and demonstrated the ability of the precision medicine approach to confirm significant drug response effects. The observed 3-year effect was large: 88% improvement compared to lower dose for ADCS-ADL (p<0.0001) and 64 % less decline for MMSE (p<0.0008).
"We are excited to see our initial biomarker hypothesis confirmed at 148 weeks. The biomarkers were selected through a data driven unbiased systematic analysis of all available genomic and clinical data, identifying a genomic alteration of SIGMAR1, the putative target of ANAVEX 2-73. The consistency of the DNA and RNA data, as well as multiple end-points and time-points further strengthen this biomarker hypothesis." Mohammad Afshar, MD, PhD, CEO of Ariana Pharma."This innovative data analytics approach, using our KEM® Artificial Intelligence platform has the potential to expand the access to precision medicine and precision pharmacology for a wide range of neurodegenerative diseases, thus, identifying the right patients that can benefit from the right therapy, at the right moment." he added.
Given the current gloom from negative results of late stage clinical trials built on the prevailing amyloid paradigm, which have reported non-conclusive results or worse, have demonstrated negative impact, the novel therapy approach taken by Anavex, using a novel target SIGMAR1 and genomic inclusion biomarkers selected using the KEM Artificial Intelligence platform, brings hope to the field.
"These results further confirm the impact of actionable genetic variants that were previously identified through a full, unbiased genomic analysis of ANAVEX®2-73 in Alzheimer's disease, raising optimism for the future of biomarker-guided precision medicine to effectively combat this devastating disease," Professor Harald Hampel, M.D., Ph.D., MA, MSc, AXA Research Fund & Sorbonne University Excellence Chair, Department of Neurology, Sorbonne University, Paris. He is the speaker of the Alzheimer Precision Medicine Initiative (APMI).
`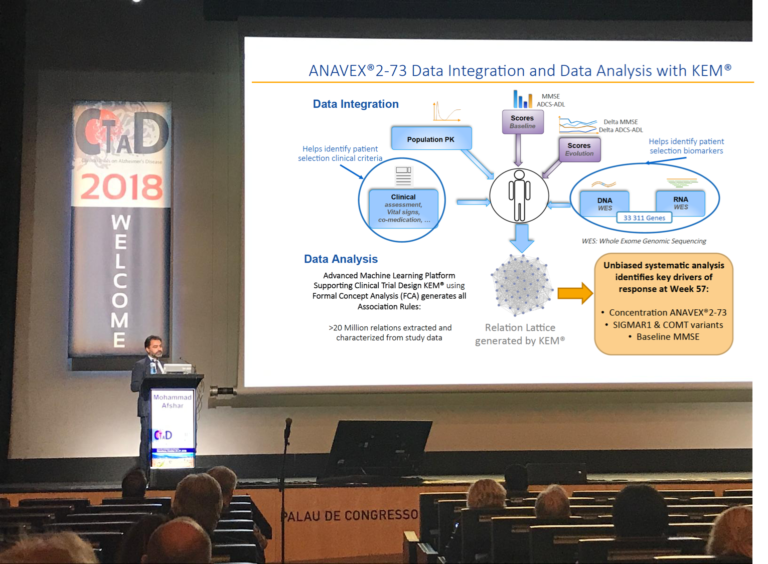 M. Afshar, MD, PhD, CEO of Ariana Pharma, presenting presenting Anavex(R) 2-73 results at CTAD 2018

"We are encouraged by these data which now show the clinical impact of ANAVEX®2-73 on patients who have been receiving therapy for almost three years," Christopher U Missling, PhD, President and Chief Executive Officer of Anavex. "We continue to build on the body of clinical evidence to support the development of ANAVEX®2-73 as we further our recently initiated Phase 2b/3 study, and we will continue our targeted precision medicine approach to advance ANAVEX®2-73 as a potential therapeutic option for patients with Alzheimer's disease who will most benefit from treatment."
Further Readings:
Press Release – Anavex Life Sciences Presents New Three-Year, Longitudinal Clinical Efficacy Data for ANAVEX®2-73 in Alzheimer's Disease at the 2018 Clinical Trials on Alzheimer's Disease (CTAD) Meeting [Anavex's Press Release]
2018 CTAD CORPORATE PRESENTATION – Longitudinal 148-Week Update of ANAVEX®2-73 Phase 2a Alzheimer's Disease Extension Study [Presentation Pdf]