Paris and Boston, April 17th 2020. Ariana® Pharma a leading digital health company announced today the publication of the first reported genome-wide search for biomarkers associated with drug response in Alzheimer's disease in the Alzheimer's & Dementia: Translational Research & Clinical Interventions journal.
Using Ariana's proprietary KEM® (Knowledge Extraction and Management) advanced Artificial Intelligence technology, starting with a small data rich open label one-year (57 weeks) clinical study of 32 well-characterized patients, was able to identify strong genomic biomarker hypothesis identifying patients with the highest chance of benefiting from the drug. The biomarker hypothesis was further confirmed through the additional 2-year (148 weeks) extension study.
The analysis of the longitudinal 3-year (148-week) data shows that patient cohort with the higher concentration of ANAVEX®2-73 maintains Activities of Daily Living Score (ADCS-ADL) and display a reduced cognitive decline (MMSE) when compared to the lower concentration cohort.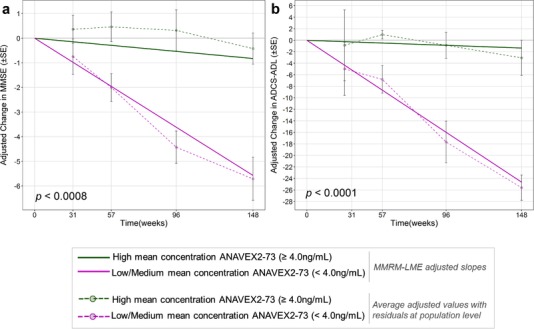 Linear mixed effect (LME) models of change in Mini‐Mental State Examination (MMSE) and Alzheimer's Disease Co‐operative Study‐Activities of Daily Living scale (ADCS‐ADL) since baseline over 148 weeks.
"This study highlights the relevance of phenotypic and genotypic precision medicine analyses of Whole Exome Sequencing (WES) and gene expression (RNAseq) data in drug development and in particular the potential to identify patients' genetic variants and gene expression changes that may predict increased chances of success of Alzheimer's disease treatments," said Dr. Harald Hampel, M.D., Ph.D., M.A., M.Sc., Founding President of the Alzheimer Precision Medicine Initiative (APMI)
The authors note that Ariana's KEM® explainable Artificial Intelligence "platform described in this work opens the possibility of using data-driven unbiased biomarker identification early in the drug development process", even using small cohorts. "The "white box" and systematic approach (…) is ideal for the analysis of early data, leading to the identification of patient selection biomarkers that can assist in the design of more effective subsequent clinical trials."
"We believe that the analysis platform described in this work opens the possibility of using big data-driven unbiased genome-wide patient selection marker identification early on in the drug development process of CNS diseases, including Alzheimer's disease, which is currently applied more routinely in the field of oncology," said Christopher U. Missling, PhD, President and Chief Executive Officer of Anavex.
KEM® (Knowledge Extraction and Management) is a comprehensive and FDA-tested Explainable Artificial Intelligence (XAI) data analytics platform that enables full exploitation of complex datasets. It has uniquely demonstrated its ability to extract biomarkers and identify alternative indications from small sets of patients, in multiple therapeutic areas including cancer, CNS, metabolic and immunological diseases.
About Ariana Pharma
Ariana Pharma is a leading digital health Company focused on developing advanced therapeutic decision support systems. Using its KEM® Explainable Artificial Intelligence (XAI) technology, Ariana helps its partners introduce personalized medicine clinical trial design into their protocols and identify the best clinical endpoints, the best responders and the best potential synergistic drugs. Ariana routinely collects and combines clinical data with omic data, immunological readouts (such as FACS), microbiota, Patient Reported Outcomes as well as Real World Evidence data. Combining advanced data analytics with regulatory expertise, Ariana helps translate findings into innovative clinical plans. With a growing number of successful therapeutic development applications, KEM® is the only FDA-reviewed technology that systematically explores combinations of biomarkers, producing more effective biomarker signatures for precision medicine. Ariana has developed Onco KEM®, the most advanced, clinically tested, oncology treatment selection system. Founded in 2003 as a spin-off of the Institut Pasteur, Paris, France, the company operates a subsidiary in the United States since 2012. Further information is available at www.arianapharma.com
Link to publication : "A precision medicine framework using Artificial Intelligence for the identification and confirmation of genomic biomarkers of response to an Alzheimer's disease therapy: Analysis of the Blarcamesine (ANAVEX2-73) Phase 2a clinical study."