Ariana Pharma helps ANAVEX® demonstrate efficacy of its Alzheimer's therapy in phase 2a clinical trial.
Ariana's KEM® Artificial Intelligence technology has resulted in the identification of the first actionable genetic variant biomarkers, selecting a specified Alzheimer's disease population, who demonstrated a confirmed response with ANAVEX®2-73.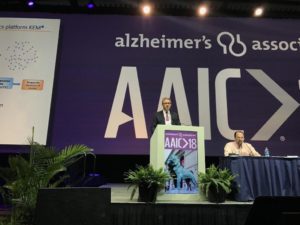 Professor Harald Hampel, M.D., Ph.D., presenting results at the AAIC 2018

These results provide support for a faster precision medicine clinical development of ANAVEX®2-73 focusing on the right patients who could benefit from the drug.
Identifying the right patient population, the use of Ariana's proprietary KEM® AI technology has a proven track of increasing the chances of success, accelerating clinical timelines and creating immediate value for the Company.
KEM® is a comprehensive and FDA-tested clinical data analysis system that enables full exploitation of complex datasets. It has uniquely demonstrated its ability to extract biomarkers from small sets of patients.
Beyond CNS, Ariana's expertise spans multiple medical indications and therapeutic areas, including cancer, metabolic and immunological diseases.
Further reading
Anavex presents results at CTAD, Barcelona (October 2018)
Biomarker data presented at AAIC, Chicago (July 2018)
Mohammad Afshar presents results at CTAD, Boston (November 2017)
Initiating collaboration (October 2016)